Bottom Brackets
Brake Systems Chains
Computers
Cranks and Chainrings
Forks
Frames & Framesets
Freewheels and Cassettes
Front Derailleurs
Grips
Handlebars
Handlebar Extensions
Headsets
Helmets
Hubs and Skewers
Lubricants
Metal Guide - Bicycle Metallurgy
Mirrors
Pedals and Toe Clips
Pumps and Inflation Systems
Racks
Rear Derailleurs
Rims & Rimstrips
Saddles
Seatposts and Binder Bolts
SRP Replacement Titanium &
Aluminum parts - Master Index
Stems
Tires
Tubes
Shoes
Spokes (Tables Only)
Tools - Bicycle Repair Tools
Yakima Fit List -to fit all cars

Notes
Links

Home
Tioga Mongrel & Bloodhound Tires
---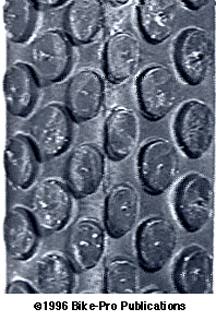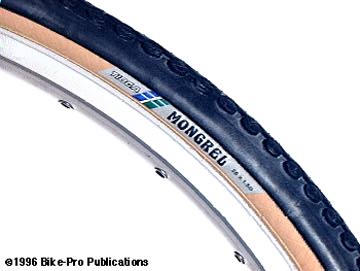 TIOGA MONGREL TIRES
There are three models of Mongrel tire, all are made in Japan, all have a Skin sidewall, and they all use a steel wire bead. The three sizes are 26 x 1.5", 700c x 38c, and 27 x 1 3/8". The Mongrel is largely for pavement use, having a shallow tread design. The tread is made of six vertical rows of oval shaped tread blocks, with three rows on each side of the centerline. The inner two rows have narrower ovals than the next two outer row, which has smaller ovals in width than the two outermost rows. The 700c and 27" diameter models have an added edge tread block in the form of a rectangle with a convex roundness on the inner, long side of the rectangle. The Mongrel's tread isn't thick enough to accurately measure its hardness on any of the three models. The 26" diameter Mongrel had a total thickness at the center, including three layers of casing fabric, of 4.5mm, while the 700c model is 4.7mm, and the 27" is 4mm.
Mongrel 26 x 1.5" $ Price in Catalog
Mongrel 27 x 1 3/8" $ Price in Catalog
Mongrel 700c x 38c $ Price in Catalog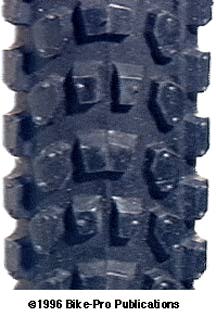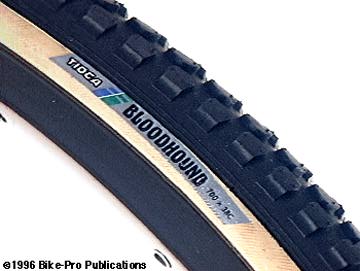 TIOGA BLOODHOUND TIRES
The Bloodhound is an all-purpose tire for Cyclo-cross and Hybrid riding or possibly off-road touring. It's available through us in two sizes, 27 x 1 3/8" or 700 x 38c. The 26 x 1.25" size though "made" we haven't found through normal distribution. Both models of the Bloodhound are made in Taiwan probably by the Cheng Shin factory, because of mold markings near the chafing strip. Both models have a steel wire bead and a light "gum" colored Skin sidewall. The Bloodhound is a directional tire with forward pointing arrows molded into the casing. Its tread design relies on two rows of tread blocks to make one tread pattern, which is repeated at 1.07" intervals around the tire. There is a square shaped block at the center with a sloping top and bottom. A multi- sided, but square based edge tread block with support rising from the casing appears at both sides. Above or below is a row that has two center tread blocks made of small vertical rectangles each beginning 1.5mm from the centerline. The second row also has the same edge tread blocks. Between each row of tread blocks, in a sense linking them together, is a coffin-shaped ellipse with the wide area in the forward rolling direction. The coffin shaped blocks appear between the center block and the edge blocks. The Bloodhound tread isn't thick enough to accurately measure the tread stock rubber hardness. We found the center thickness of the 27" tire to be 4.9mm, which includes three layers of casing fabric, while the center thickness of the 700c model was 5.3mm.
Bloodhound 27 x 1 3/8" $ Price in Catalog
Bloodhound 700c x 38c $ Price in Catalog