OnZa Tires
---
ONZA PORCUPINE TIRES
Onza markets 5 tires they have made in Taiwan, calling them the Porcupine tires because of their tread appearance. The tread uses conically shaped points that have a 10mm diameter base with 6mm diameter flat tops. For cornering traction, the Porcupine side tread blocks use two smaller 7mm diameter base cones with 5mm flat tops which are linked in the direction of travel. There are two large cones centered between the sidewall tread blocks with a row of three large cones between the side tread blocks. All five tires use nylon for the casing fabric. The conically shaped tread blocks are intended to penetrate mud, but not have it stick to the tire.
---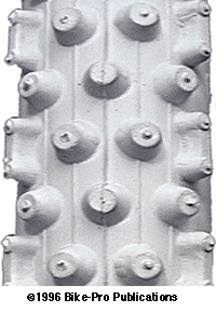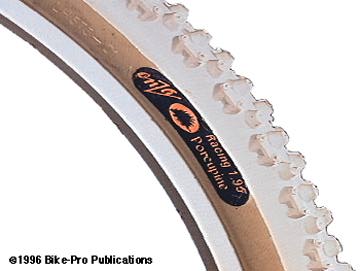 ONZA PORCUPINE I
This is the original Porcupine, sized at 26 x 1.95" with white tread. It has a steel wire bead, and a thin gum sidewall. The White tread was used to make the tire softer for racing on hard ground purposes. It likely has Zinc or Titanium Oxide added to pigment it white, with less carbon as a stiffener to make it softer. It durometer tested to 57/A hardness. No longer available. We sold these for $16.99

OnZa PORCUPINE II
The Porc II with a steel wire bead, is sized at 26 x 2.10" and comes in 2 models. The "Skin" sidewall model is really a thin gum sidewall with a tread durometer reading of 60/A. Though the skin model has a nominal width of 2.1" we measured it at 1.8" in reality, just like the Porc I, maybe the same mold was used with a sidewall name change and black tread stock. The Black sidewall version has sturdy real Black sidewall with a tread durometer hardness of 66/A. Their thread counts are unknown. This tire has been discontinued by Onza. We sold it for $14.99

OnZa PORCUPINE II KEVLAR BEAD
The Kevlar folding bead versions have tread blocks with a larger 12mm base diameter and 8mm diameter tops for the cones that run down the middle of the tire. Though they have a nominal size of 26 x 2.10" we found the actual section width of the tire be not larger than 1.85" which is somewhat narrower. The Skin model actually has a thin gum sidewall with a tread durometer hardness of 68/A. The Blackwall version really has a sturdy Black sidewall with a tread durometer hardness of 69/A. The thread count for both of these is unknown. These are made by Cheng Shin Tire (CST) in Taiwan. The Kevlar version of these tires sold for $25.99

ONZA AGGRO I KEVLAR BEAD
The Aggro is made in Taiwan by Cheng Shin Tire for OnZa. It is has a wire bead or a a lighter weight Kevlar bead so the tire will fold. The 26 x 2.10" Aggro is sold in package indicating that its to be used as a front tire, and its tread appears to be directional though there is no arrow to indicate the forward direction. The sidewall area is Black in color but isn't a full thickness Black sidewall, its more a Black tinted version of the standard skinwall. The Aggro tread pattern repeats at 22mm intervals, and is made of five blocks spaced horizontally across the tread. At the center is a multisided triangular block that is 12mm high by 8.5mm wide. To each side of this small center block is a bracket shaped "<", ">" block that is narrower at the top, with the cupped sides facing inward. These blocks are 19mm tall and approximately 5mm wide. A second set of these same bracket blocks facing the same direction are used on each side of the middle block set. Small sipes pass horizontally through the middle of each of the bracket blocks, and vertically through the center triangle block. The Kevlar bead Aggro packaging states the tire has a weight of 560 grams, which we found troubling and deceitful as the actual weight was nowhere close, at 708 grams, (we found the same sticker in the Honch box with an even wider discrepancy, doesn't anyone care about the truth anymore?) The rubber blocks are slightly small for a highly accurate reading of the rubber hardness, but our instrument gave an reasonably approximate reading of Aggro Kevlar 67/A.
Aggro 26 x 2.10" Steel/Skin/Black $ Price in Catalog
Aggro 26 x 2.10" Steel/Black/Black $ Price in Catalog
Aggro 26 x 2.10" Kevlar/Skin/Black $ Price in Catalog
Aggro 26 x 2.10" Kevlar/Black/Black $ Price in Catalog

OnZa Honch
OnZa has the Honch made for them in Taiwan by Cheng Shin Tire (CST). The Honch is said to be made in more combinations of bead, sidewall and tread than we have seen, but we are going to list them all because we believe they will arrive to market at some point in the future. At this time we have seen only the Kevlar model with Black sidewall and tread The 26 x 2.10" Honch has a very thin Black sidewall and Kevlar folding bead. The tread pattern looks as if there is some directional aspect to it, though there is no arrow showing so. The tread pattern replicates at 22mm intervals. It has at the center a pair of thinly joined triangles that are 18mm wide and 12.5mm tall, that form an open cupped shape. A pair of un-joined triangles that are 8mm wide by 6mm tall, exist 6mm from the top and bottom of the joined pair. A set of "L" shaped blocks with the short leg inward encloses the joined and un-joined blocks from the side. These side blocks have supports rising from the sidewall giving an outer edge support. The Honch has a rubber hardness of 67/A. Though the Kevlar bead with Black sidewall package claims the tire weighs 560 grams, in fact it weighs 753 1/2 grams.
Honch 26 x 2.10" - Steel/Skin/Black $ Price in Catalog
Honch 26 x 2.10" - Steel/Black/Black $ Price in Catalog
Honch 26 x 2.10" - Kevlar/Skin/Black $ Price in Catalog
Honch 26 x 2.10" - Kevlar/Black/Black $ Price in Catalog