IRC Tires
---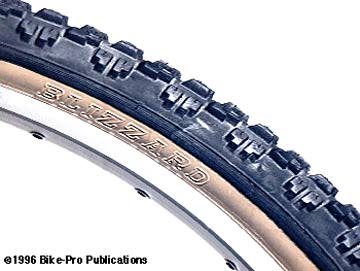 IRC BLIZZARD
The Inouye Rubber Company, known as IRC by the bicycle industry, like National and Mitsuboshi, is another of the big Japanese tire manufacturers. IRC has made tires of good quality and workmanship for many years. IRC is responsible for the manufacture of the Japanese made Ritchey tires and the to be released in 1993 Yeti For Racing Only tire. The IRC tire under their own name, that has made the biggest impact in the USA is the "Blizzard". The Blizzard is marketed as the tire for snow conditions because it has small steel pins pressed into its tread pattern, in a way, like the steel studs pressed into snow tires used on automobiles. The Blizzard tread pattern is directional and made of two rows of tread blocks which are based on over lapping rectangles with broad spaces between them. The first row is made of three multi-sided over lapping tread blocks. The second row has two of the over lapping style blocks, one on each side, 4mm from the centerline. One of these two blocks will have a steel pin in it. In the next repetition of the tread pattern, the opposite block will have the steel pin in it. The second row also has two small edge tread blocks on each side. We found the Blizzard's tread rubber had a hardness of 72/A.
Blizzard 26 x 2.125" $ Price in Catalog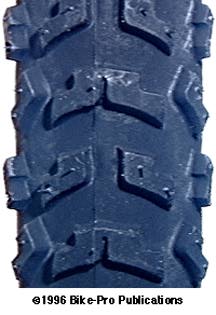 IRC GEO CLAW LITE
The IRC Geo Claw Lite is a directional 26 x 1.90" mountain tire. It has a Kevlar bead to reduce weight and comes, at the moment, only in a Skin sidewall model. The Black tread two tread block pattern that repeats every 1.47" around the tire. The first row has a .88" wide center tread block which has the appearance of two "L" shaped blocks, on their backs, joined for a part the base. There is a smaller L-shaped edge tread block which is pitched at an angle. The smaller blocks are placed 2.5mm from the center block. The second tread block row uses two L-shaped blocks, on their backs, in the center, with the bases separated by 6mm. The second row has smaller L-shaped tread blocks pitched at an angle with support that rises from the sidewall. We found the Geo Claw Lite had a tread rubber hardness of 62/A.
Geo Claw Lite 26 x 1.90" $ Price in Catalog