Bottom Brackets
Brake Systems Chains
Computers
Cranks and Chainrings
Forks
Frames & Framesets
Freewheels and Cassettes
Front Derailleurs
Grips
Handlebars
Handlebar Extensions
Headsets
Helmets
Hubs and Skewers
Lubricants
Metal Guide - Bicycle Metallurgy
Mirrors
Pedals and Toe Clips
Pumps and Inflation Systems
Racks
Rear Derailleurs
Rims & Rimstrips
Saddles
Seatposts and Binder Bolts
SRP Replacement Titanium &
Aluminum parts - Master Index
Stems
Tires
Tubes
Shoes
Spokes (Tables Only)
Tools - Bicycle Repair Tools
Yakima Fit List -to fit all cars

Notes
Links

Home
Archival Reviews of Titanium Spindles
---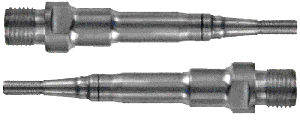 ACTION TEC M525/1056/6402/TP93 TITANIUM
REPLACEMENT SPINDLES
Action Tec once made an aftermarket replacement spindles from Titanium 6Al-4V rod for use in place of the steel ones that are stock for three Shimano pedal sets and one LOOK pedal set. These are an exact replacement for the spindle used in the Shimano M525, the 105SC 1056, the Ultegra 6402, and the LOOK TP93 MTB pedals. The spindle has a ground steel cone race pressed onto it in the one area of the spindle where the bearings actually come in contact with it. The weight of the stock Shimano steel spindle is 65 grams each. The Action Tec replacement weighs just 38 grams each, with a pair weight savings of 54 grams. No longer made these sold for $84.99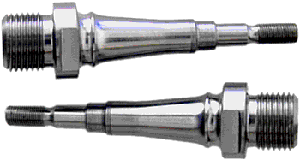 PECCO'S SHIMANO 7410 TITANIUM REPLACEMENT SPINDLES
These spindles are machined from Ti 6Al-4V rod to replace the Cro- Moly steel ones that come stock in the Dura-Ace 7410 pedal set. The spindle is an exact replica and has ground steel bearing pressed onto the Ti spindle at the only point of ball bearing contact, 24mm from the tip. The extra short length of the 7410 spindle already reduces its steel weight to just 40 grams. The Pecco's Ti version weighs just 22 1/2 grams per spindle or 45 grams for the pair. Made in Canada. No longer made these sold for just $59.99 a pair

SRP SHIMANO M737 / A525 TITANIUM SPINDLE CONVERSION KIT
(This part is no longer available, and has been discontinued and recalled by SRP, but we include the review because its concept was very imaginative.) SRP created a Titanium spindle replacement kit that incorporates a sealed cartridge & needle bearing replacement for the twenty-four 2.2mm diameter steel ball bearing used as Shimano original equipment. Remember the Shimano spindle bearing unit installs as a single piece, relying on a nylon composite sleeve that acts as a lock nut to hold the steel spindle in place. This sleeve supports a broad amount of the load, and is replaced with a new one machined from aluminum. The sleeve slides down the spindle, then two small sealed bearing cartridges with a 13mm outer diameter and 4mm depth, slide down the spindle and are held in place with a cir-clip styled snap ring. A finely machined Black steel needle bearing inner race is pressed over the very end of the Ti spindle. Over this inner race, a machined steel sleeve with twelve 10mm long needle bearings in a retainer is pressed into place. The needle bearings support the outer load, while the cartridge bearings supports the spindle assembly and assist the sleeve. The entire assembly is then screwed into the pedal and tightened with the Shimano TL-PD40 tool. The original Shimano assembly weighs 84 1/2 grams each. The SRP upgrade with the new sleeve weighs 75.5 grams each, with a pair weight of 115 grams. One kit replaces both spindles in a pair of M737 or A525 pedals. Victor in Taiwan now produces a copy of this design and is marketing under the "Exus" brand name. The copy isn't as intricate as the original and we caution you that it may be subject to the same failure.

SRP LOOK TITANIUM REPLACEMENT SPINDLE SET
(This review is also included for historical purposes only. This LOOK pedal upgrade has been discontinued and recalled by SRP, and yet we believe the thinking was highly imaginative.) As we mentioned in our LOOK pedal overview, except for the TP93 model, all LOOK pedal sets rely on the exact same spindle and bearing parts. SRP has created a Titanium replacement spindle set that is better than the original. The Ti spindle itself is machined as an exact replica from Titanium 6Al 4V rod with a hollowed interior to reduce weight. SRP includes a new sealed bearing cartridge of same make as the original, held in place on the spindle by a cir-clip like the original bearing. The improvement in this set is the lock ring sleeve which tightens and holds the spindle in place. The original lock ring sleeve was made of molded Black plastic, and the edges had a tendency strip out if you didn't use a perfectly shaped 18mm box wrench. SRP has this piece replicate machined from billet aluminum, so it is much stronger than the original. The original LOOK spindle assembly, with lock ring, cir-clip and bearing weigh 68 grams each. The SRP versions weigh 40 1/4 grams each, with a pair weight of 80 1/2 grams. One spindle set will replace both spindles in a pair of any of these pedals sets; S2S Nevada, S2R Moab, PP156, PP166, PP176, PP186, PP196, PP196 Team, PP276, PP286 or MP90.