Blackburn Racks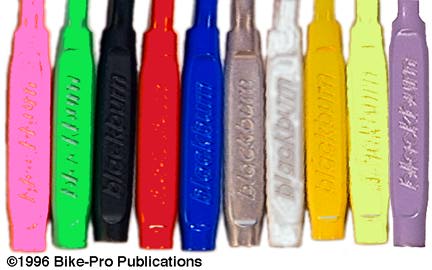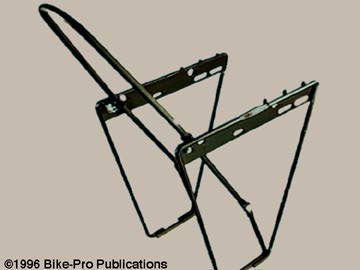 BLACKBURN FL-1 LOWRIDER RACK
The Blackburn FL-1 is designed to carry fully loaded panniers lower and over the front wheel. This weight distribution helps to create a lower center of gravity which provides maximum stability and ease of handling. The FL-1 works well with mountain bikes, tandems, and touring bikes. To support the primary weight the FL-1 is bolted to the eyelet of the front fork end, there is then a vinyl coated clamp that fastens around each fork blade to secure and steady the rack. To prevent lateral motion in the weighted front, there is a hoop styled cross brace included, or instead you can bolt it directly to the discontinued AF-1 or the MT-F rack and not use the cross brace. Again, it can be used with or without a Blackburn AF-1 or MT-F front rack. Available in Silver or Black. Weight 531 grams.
Color - BK-S $ Price in Catalog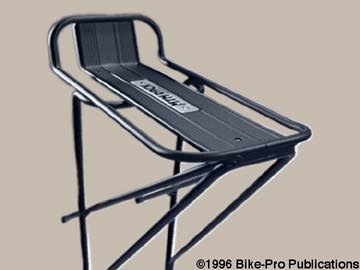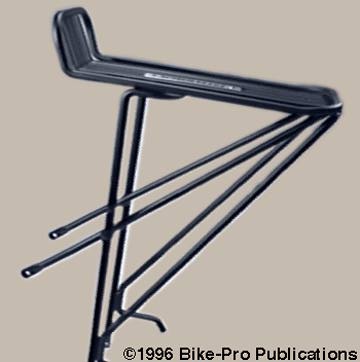 BLACKBURN MT-F FRONT MOUNTAIN RACK
The front rack designed with mountain bikers in mind. A truly unique design which allows for high ground clearance and no brake cable interference. Four point mounting and heavy gauge aluminum, TIG welded construction for strength. The rack fastens at the fork tip eyelets and at the low rider braze-ons half way up the fork. If there are no lowrider braze-ons, there are vinyl coated clamps that fasten and hold it. The installation works well on forks with tapered blades (Switchblade, Ritchey Logic type) and oversized seatstay clamps are avaialble separately. Made for carrying objects on the top and panniers on the sides, it has pannier spring release hooks built into the bottom at the eyelet. Available with braze-on or vinyl-coated clamp on attachment. Available in Blue, Black, Red, Silver, White. It weighs 561 grams.
Color - B-BK-R-S-W $ Price in Catalog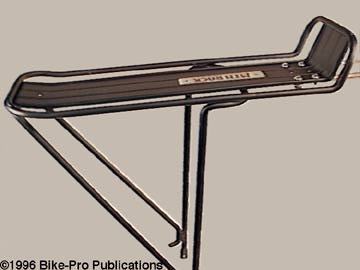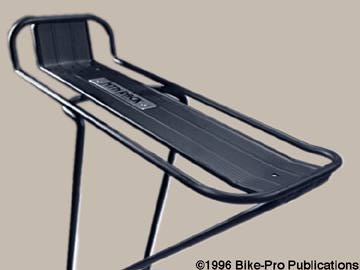 BLACKBURN REAR MOUNTAIN RACK - (MTN-1 / MTN-2 / MTN-3 / MTN-24)
Specifically designed for the needs of mountain bikers, this rack lets you take more than your nerve with you when you go off the beaten trail. Constructed of extra strong heavy-gauge T6 aluminum alloy, it's Tungsten Inert Gas (TIG) welded so that it is one rigid rack. The MTN rack is wide in the back with additional clearance for wide tires and has a unique, built in shelf to increase rigidity and deflect mud and water spray. Mounts easily on virtually any frame style and size (monostay adapters are made and sold separately). The MTN-1 is for frame sizes from 19"- 22". The MTN-2 is for frame sizes over 22". While the MTN-3 is for frames from 15"-18". There is even a MTN-24 for bikes that have 24" wheels. These racks are available in Blue, Black, Red, Silver, Canary Yellow, White. The weight is approximately 580 grams.
Model-1-2-3-24 /B-BK-R-S-W $ Price in Catalog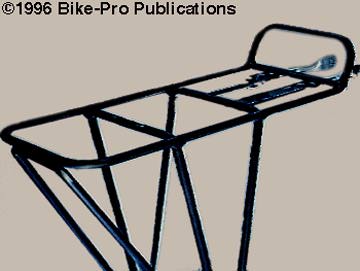 BLACKBURN SX-1 EXPEDITION RACK
The most versatile of Blackburn's rear racks, it can be adapted to fit most any bike. This uses a heavier gauge aluminum rod that is 25% thicker than the other Blackburn racks. This rack is so well constructed you couldn't comfortably ride with the weight it can carry. Perfect for heavy-duty touring or tandems. Besides rugged construction, it has extra tire clearance for off-road use as well. Adjustable four-point mounting for a variety of frame styles and sizes. It can be used with or without braze-ons by using vinyl coated clamps instead. Made Black or Silver, it weighs approximately 578 grams.
Color- BK-S $ Price in Catalog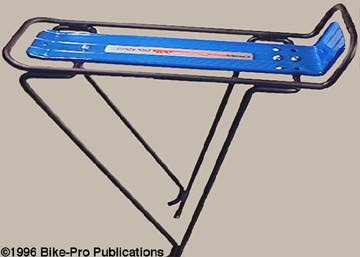 BLACKBURN XR-1 CROSSRACK
Nominally for use on Hybrid or Cross bikes, this rack works equally well on Road and Mountain bikes because it accepts all tire diameters and widths. The XR-1 is made of three structural pieces that are all TIG welded together. The front and rear supports have 1 1/2 inches of vertical load contact welded to the upper rack frame, at each point of contact. The upper rack plate is a cut and drilled extrusion, that bolts to the lower supports. The XR-1 can be 3 point mounted using a bracket behind a caliper brake or 4 point mounted using braze-on fittings. The hardware for both mounting types, and installation tools are included. The lower support structure is Black, with the upper rack plate available in Blue, Black, Red, Silver, White. The XR-1 weighs 550 grams when 3 point installed.
Color B-BK-R-S-W $ Price in Catalog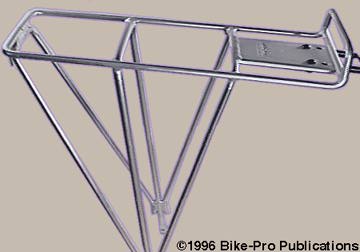 BLACKBURN CSR-1 RACK
The CSR-1 is a variation of the Blackburn SX-1 rack. The Blackburn model was made to replace the Rhode Gear model VR-1000 that was discontinued as an RG product once Bell bought Blackburn leaving a bicycle racks only in the Blackburn domain. The is made of 8mm diameter 6061 aircraft aluminum that is TIG welded at every structural point of contact to be extra beefy. The CSR-1 uses 4 point mounting, 2 contact points at the seatstay and 2 at the rear wheel drop out. It can be bolted to braze-ons on the seat stays or vinyl coated clamps can be used . The rack comes with installation hardware for any style of mounting, and the necessary allen wrenches. We include and sell this rack because it compatible with the Rhode Gear Taxi (made in Taiwan) and Rhode Gear Limo (made in USA) infant carriers. Each of these are well designed infant carriers that permit a quick release installation on any CSR-1 rack. Many parents buy one Child Seat, (which comes with one CSR-1), and buy a second CSR-1 rack so they can move the child seat to which ever bike they plan on taking the child with. The CSR-1 comes in Black The weight of the rack for braze-on mounting is 666 grams. $ Price in Catalog
BLACKBURN RS-1 RACKSTRAP
This is the only rack strap made specifically for bicycle use. It is made by binding two flat elastic straps together, so there are two cords passing over the rack to hold your things down. These straps are made from an extra long stretch elastic that will cinch your possessions down firmly. It has double hooks at the ends that provide multiple anchor points to any front or rear bicycle rack, although Blackburn recommends their rack, of course. They come in colors, Black, Red, Blue, Grey. Lighter than any bungee cord at only 40 grams.
Color - B-BK-GY-R $ Price in Catalog
BLACKBURN MONOSTAY ADAPTER
The Vinyl-coated monostay adapter is for use with the MTN series, XR-1, SX-1, and Expedition racks with frames that do not have twin seat stays joined at the seat tube. This vinyl coated clamp wraps around the monostay (wishbone style seatstays) and provides two lugs for the rack to bolt to. $ Price in Catalog
BLACKBURN SEATSTAY CLAMPS
Vinyl-coated clamps for use with the MT-F (on the fork blade), MTN series, XR-1, SX-1, and Expedition racks with frames that do not have stay braze-ons. These clamps wrap around the seat stay and give firm support for rack mounting. The vinyl coating prevents paint scratches to the frame. They come as a set of two in 5/16", 1/2", 9/16", 13/16" or 1" inner diameters.
Size-516-12-916-1316-1 $ Price in Catalog