Pedro's Lubricants


PEDRO'S ATB SYN LUBE
This synthetic lube has been designed specifically for mountain biking. It has very good staying power, with the use of heavy oil, thanks to a unique blend of synthetic lube and detergent polymers which help break down dirt and debris. These polymers also increase the adhesive qualities of the lube, but do not add thickness or weight. Syn Lube is packaged in two ounce environmentally aware squeeze bottles. ATB Syn Lube comes in a 2 oz. drip/squeeze bottle or a 12 oz. squeeze bottle for those who don't want to run out.
2 oz. drip bottle $ Price in Catalog
12 oz. bottle $ Price in Catalog

PEDRO'S ROAD SYN LUBE
This is a very similar composition to the Syn Lube used for mountain bikes, but is a little thinner for more delicate road racing bicycle parts. It has a synthetic lubrication blend and detergent polymers to help break down dirt and debris. Road Lube (red in color) is packaged in a 2 oz. squeeze bottle. $ Price in Catalog

PEDRO'S SYN GREASE
Pedro's Syn Grease is the grease complement to the famous Syn Lube series of liquid lubricants. It's a 100% synthetic grease that offers superior water and corrosion resistance. It's concocted with structural stability for longer lasting performance. It comes in a pink 3 oz. tube that can be injected into the bearings with the Syn Grease, or the Fat Chance grease injector. It can also be applied the old fashioned way by wiping it thoroughly around the bearings and setting them.
3 oz. tube $ Price in Catalog
3 oz. tube with Syn Grease Injector $ Price in Catalog
16 oz. tub (not for injector) $ Price in Catalog

PEDRO'S BIKE LUST POLISH
Pedro's Bike Lust is a one-step cleaning and polishing product applied using a pump spray bottle. When sprayed onto and wiped, it leaves a clean surface that has a protective silicone finish that helps shed future dirt and water from adhering to the surface. Non-toxic, in 12 or 32 ounce bottles
12 ounce pump bottle $ Price in Catalog
32 ounce pour bottle $ Price in Catalog
PEDRO'S BIO-DEGREASER
Pedro's Bio-degreaser is an environmentally safe cleaning agent that comes in two forms. The first is a 12 ounce bottle of diluted ready to use de-greaser. The second is in the form a 32 ounce bottle of concentrate that can be diluted with 3 parts water to make a gallon of de-greaser, which can be applied several ways, including the Bio-shot can.
12 ounce pump bottle $ Price in Catalog
32 ounce concentrate bottle $ Price in Catalog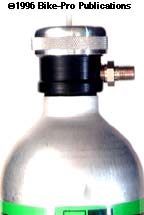 PEDRO'S BIO SHOT
Pedro's re-markets a device known to others as the Sure Shot Atomizer, which is re-usable spray can container that uses compressed air as the propellent. The aluminum can has a air tight top, with a Schraeder valve for air compressor or pump to pressurize the can to between 80 and 200 PSI. The spray has a 16 ounce capacity, and can be used with any of the lubricants or cleaners, or many other household liquids including paints of several types. The spray can comes with four different aerosol nozzles each with a different flow rate, (if you ever need more, they can be taken from any disposable aerosol can), and two siphon hose/aerosol valve tops. Among all the things written about in the Lubricants section, this is the most impressive, (not that we didn't know they existed, we just stopped seeing them at auto paint stores a few years ago), because it will last a lifetime, and gives you the power to make an aerosol spray of nearly any liquid. Every crafty person should own at least one.
16 ounce spray set $ Price in Catalog