Headset Accessories
---
HEADSEAL
The Headseal is a piece of neoprene fabric that surrounds the outside of the lower bearing. The stretchy fabric keeps contaminants out of the bearing. It's held in place by tiny stainless steel hooks. The fabric is Black. $ Price in Catalog
LIZARD SKIN HEADSET SEAL
The Lizard Skin head seal is made of Cordura fabric and surrounds the outside of the lower bearing assembly. The Lizard Skin fastens using Velcroª and comes in 5 colors, Blue, Black, Grey, Lavender or Red.
Color-B-BK-GY-L-R $ Price in Catalog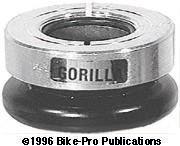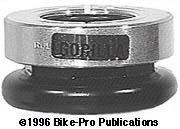 ROCKY MOUNTAIN GORILLA HEADLOCK
This replaces the head lock nut on almost all headsets. The Gorilla headlock uses a principle that some headsets incorporate into their design. Many non-cinching headlock nuts back off the steerer tube threads in use, this device constricts around the steerer tube holding the headset assembly in place. It's made of aluminum, sawn through from one side and partially into the other, providing an expanding or constricting ring. The sawn through portion of the lock is drilled horizontally and tapped for a steel bolt that threads through and draws the pieces together as it's tightened. The interior is tapped for the threads of the fork steerer tube and there is a O-ring recessed at the top to act as a stem seal. The bolt has an allen head and the wrench to tighten the headlock is provided. The Gorilla lock comes in 1", 1 1/8" or 1 1/4" sizes in Silver. The 1" size weighs 39 grams, 1 1/8" is 41 grams, 1 1/4" is 48 grams.
1" size $ Price in Catalog
1 1/8" size$ Price in Catalog
1 1/4" size $ Price in Catalog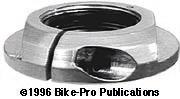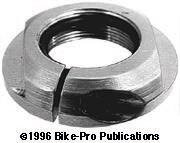 WHEELS MANUFACTURING GROWLER HEADLOCK
The Growler is machined from 6061-T6 aluminum alloy to replace the non- cinching headset lock nuts provided by the headset makers. The piece is turned on a lathe with a channel milled around the inner surface for an O- ring used as a stem seal. Two parallel cuts create the grip surfaces for the headset wrench. With the threads tapped for the steerer, a hole is drilled horizontally at the base of the headlock nut for the cinch bolt, recessing the head. The cinch hole has threads tapped for the bolt and then cut through to make the cinch mechanism. The bolt has a 3mm hex head fitting. The Growler headlock comes in 1", and 1 1/8" in Silver or Black while the 1 1/4" size comes in Black only. The 1" size weighs 21.5 grams.
Color-BK-S 1" size $ Price in Catalog
Color-BK-S 1 1/8" size $ Price in Catalog
Color-BK-S 1 1/4" size $ Price in Catalog
Copyrighted material - All rights reserved
---
This site sponsored by