Sachs / Sedisport Chains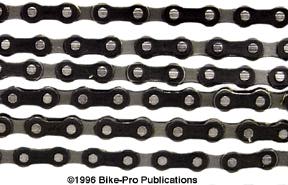 SACHS/SEDISPORT SC-30/40 CHAIN
Sachs/Sedisport chains are the industry standard for replacement chains, and are the one most recommended to people by our service department. They work with all freewheels and shifting systems. The link pins are 7.29mm long making the chain narrow enough for all 7 or 8 speed applications. The link plates and the roller plates on the SC-30 are Black steel. The Delta treated pins reduce stretching and breaking. The inner surface of the roller link plates are beveled to insure smooth, quick shifting. Weighing 340.5 grams, it has 116 links and comes in three colors: Black, or Silver, (which has a nickel finished).
Black $ Price in Catalog
Silver $Price in Catalog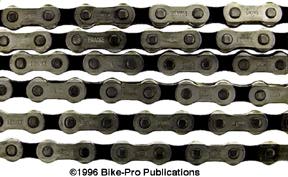 SACHS/SEDISPORT ATB / SC-M50/55 MOUNTAIN-BIKE SPECIAL CHAIN
This is the single most recommended chain. It works universally well with any shifting system is smooth, efficient, and serviceable without special pins. It offers simplicity and ease in an area of the bike made too complicated by others. The Sedisport ATB has Delta treated pins, with the inner surfaces of both plate types beveled.
The outer plates are nickel plated giving them a Silver color, the roller plates are Black. The link plates, in the pin area, narrow in thickness as they move to the vertical edges. Made in France, the SC-M50 has 116 links and weighs 339.5 grams. This Silver/Black chain will work with any shift system, including Hyperglide! Price in Catalog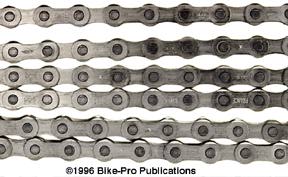 SACHS/SEDIS PRO SL / SC-R80 CHAIN
The Sedis Pro is the Professional version of the Sedis chains intended for use on road racing bikes or mountain bikes requiring a high quality, narrow, replacement chain. It has 114 links, perfect for all road applications and compact/micro mountain bike use. The Pro chain has the beveled outer link plates, and pins that are just 6.99mm long, to work with all indexing shift systems. The chain is nickel plated to give it a Silver color, and heat treated on all chain parts. The nickel plating helps prevent rust. This is the chain Campagnolo ships with their grouppos, and Mavic ships with their part grouppos. Made in France, it weighs 317.5 grams. Price in Catalog