Aztec Bicycle Brake Pads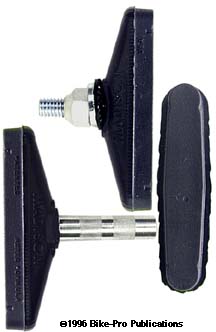 DELTA/MADISON AZTEC BICYCLE BRAKE PADS
These have historically been the single most asked for replacement brake pad because of a test printed in a magazine a few years ago. The Aztec pads are made in a Grey color by Kool-Stop for a company originally known as Madison but was bought by a British Corporation and is now know as Delta. The Aztec pad comes in both a non-threaded for cantilever mounting post and a threaded version for the Machine Tech, MRC, Marinovative and Road caliper mounting post. The Aztec pad is 58mm long with a 14.25mm height. The rim contact area is 56.75mm by 10.5mm high. The non-threaded post is 6.92mm in diameter with a 29mm useful length. The threaded pad has a steel post with 6mm by 1mm threads and has an 18mm useful length. The threaded post model comes with a convex washer that pivots and locks against the concave back of the steel post. The threaded model also comes with a machined aluminum nut to fasten it to the caliper. Like other Kool-Stop manufactured bicycle brake pads, the pad material feels less like a rubber than it does a plastic compound, in fact it's a synthetic rubber/polymer compound. We found the pad compound to have an A/89 hardness. Aztec are sold in pairs, and have a weight in the cantilever, non-threaded style of 34 grams per pair. The pair weight of the threaded pad with washer and nuts is 49 grams. Made in USA.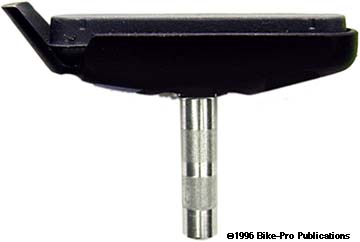 AZTEC BICYCLE RIM RAKES
An accessory to improve the performance of either model of Aztec bicycle brake pads is a pair of Rim Rakes. The Rim Rake is made of Black molded plastic which shrouds and encloses the bicycle brake pad. To hold its position firmly on the brake pad it relies on a raised area molded near the mounting bolt on the pad. There are also four snap locking tabs around the inner skirt of the Rim Rake that grip an exposed edge of the brake pad. The Rake faces to the rear of the bike so that the revolving wheel is always forced into its dirt catching scoop. The scoop is flexible and pivoting with a 12mm wide circular leading edge. When the pad is properly positioned the Rake skims along the wheel rim and knocks away mud and debris leaving a clean rim that the pad can really stop. Each Rim Rake weighs 3 grams and can be moved and re-used with new Aztec brake pads as they wear out.
pair of Rim Rakes $ Price in Catalog