Avid Tri-Dangle
---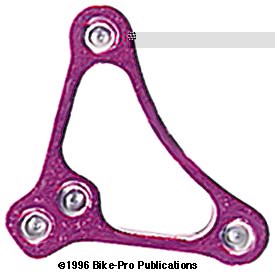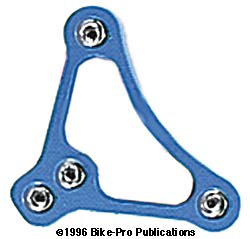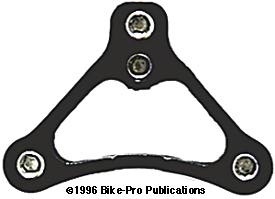 The Avid Tri-Dangle is cleverly machined cable carrier. There is some controversy about the similarity between the Tri-Dangle and the Joe's Yoke in terms of which came first. We are reasonably convinced that the Tri-Dangle was the first. Machined from plate aluminum, the Tri-Dangle is 24mm high and 34mm wide. The middle of the Tri-Dangle is milled away leaving a light weight piece with thin walls. Two cuts are made on the sides. The 2.5mm kerf left from these side cuts allow the straddle wire through.
Notice: there is no room for a lead anchor to pass through, so the straddle wire your brake uses must use a cable end clamp for at least one end (Avid, Critical, Grafton, Joe's, Paul or Piranha) or bolt down the cable to the right arm (Crystal Design, Dia-Compe, Ritchey, Suntour, or TNT).
A small hole is drilled from the top, through the upper area for the brake inner wire to pass through. Four holes are bored into the Tri-Dangle from the front face, then tapped with threads. There are two at the top, and one at each side. Each of these holes has a cup point set screw. The two screws at the top when tightened hold the brake inner wire securely. Those at the side grip and hole the straddle cable stationary. The Tri-Dangle weighs just 4.5 grams and comes anodized in Blue, Black, Lavender, Red, or Silver. The needed 2mm hex wrench to tighten the set screws is included. Made in USA.
Color-B-BK-L-R-S $ Price in Catalog
Copyrighted material - All rights reserved
---
This site sponsored by