IRD Cantilever Brake
Generally speaking, IRD goods aren't available any longer. Their belief in not using distributors left them under-represented in the marketplace as more capable, up-starts became more business saavy in the industry.
---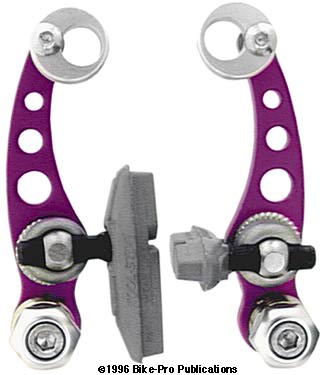 IRD SWITCHBACK BRAKE
This is a cleanly machined cantilever brake made largely of aluminum with a few steel pieces. It's a powerful brake with a soft feel, excellent for front or rear use. The Switchback uses a unique cable routing to pull the arms together, which eases strain on the mounting studs and eliminates the need for a "booster plate" because the power is already boosted by the concentric wheel design. This brake uses an extra long straddle wire that is wrapped around an aluminum wheel at the cantilever arm end. The wheel is fastened off center so the rotation of the wheel when pulled, is concentric.
The Micro Swicthback has several holes drilled through it to reduce weight. Because of this powerful cam principle, a small, tiny, little brake lever pull becomes huge rim clamping power. Stainless steel mounting bolts are included with the brake. Each brake comes with Kool Stop Eagle Claw pads. The weight of the brake with its straddle wire weighs 151 grams to which we add 47.5 grams for the brake pads to give a total on the bike weight of 198.5 grams. Black, Lavender or Silver with Silver accents.
Color - BK-L-S $ Price in Catalog








IRD WIDGET SUSPENSION CANTILEVER
This uniquely designed brake solves problems in cable routing that many rear or front suspension systems have difficulties with. The brake cable housing runs straight from the lever to one arm of the cantilever. A cam and pivot mechanism on the arm the cable is fastened to combined with a solid rod linkage joining the other brake arm open and close both arms simultaneously with lever activation. Put another way, this brake with its mechanical linkage eliminates the effect of the rear suspension travel on the brake wire's tension.
The Widget is made only in Silver and comes with Kool Stop Eagle Claw pad and stainless steel mounting bolts. The Widget with brake pads, mounting bolts and hardware weighs 196.5 grams. Again these aren't made any longer.
Copyrighted material - All rights reserved
---
This site sponsored by