DKG Brake Booster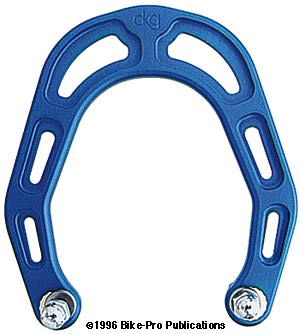 DKG STRONG ARM BRAKE BRIDGE FOR CANTILEVER BRAKES
The Strong Arm is one of the earliest of the booster plates. ItÕs machined of 6.61mm thick 6061-T6 aluminum plate stock. There are 6 slots of three sizes milled out of the Strong Arm to reduce weight, and two holes, one on each arm end for mounting stud distance adjusters. The adjuster holes have a serrated outer edge which a mated adjuster fits into.
The Strong arm is 136mm high and 123.5mm wide. Its inner height is over 3 1/2Ó (93mm), and has a 2.4Ó horizontal clearance between the ends at the mounting studs, allowing even the largest tire to fit easily.
To accommodate the spacing of different mounting studs the hole through the adjusters are offset so the adjuster can be re-positioned until the distance between them is centered on the studs. The adjusters will work with frame stud spacing from 74mm to 86mm. The Strong Arm comes with two 45mm long steel pieces of all thread, two steel nuts, two steel cap nuts and 6 flat washers for spacing to replace the mounting bolts and hold the plate.
The Strong Arm is easily adjustable, light, will fit all width of tires, and will even assist in correcting for mis-brazed studs. The aluminum plate and adjusters weigh 77.5 grams, and the steel mounting hardware weighs 34.5 grams for a total weight of 112 grams. The DKG is the only adjustable booster that when adjusted remains fixed even though the bolt may loosen up. Made in Northern California, They are anodized in Blue, Black, Lavender or Silver.
Color - B-BK-L-S $ Price in Catalog