World Class Bottom Bracket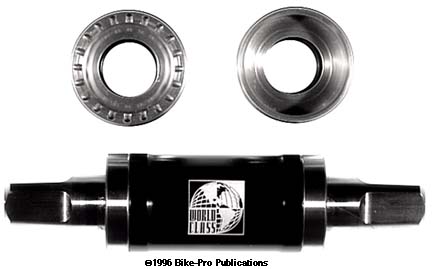 WORLD CLASS TITANIUM BOTTOM BRACKET
The World Class B/B is one of two near identical bottom brackets made in Southern California. It is widely believed that both the GT and the World Class are turned out of the same machine shop on contract to both companies. To refresh you from the GT review, it is understood that Bob Hadley nephew works at a machine shop in the Riverside/Claremont area of the So Cal desert. Bob Hadley, once a party to the original Hadley B/B of BMX fame, works at GT so that's how we believe they came to know of it. Implicit in that last remark is who we think was responsible for the original design. We took delivery of the World Class version sometime before GT was making them available.
The World Class B/B is a dual adjustable cup with a fixed spindle having an internal shell or "core" tube. This design allows the entire unit to be adjusted laterally in the B/B shell to make small adjustments toward chainline perfection. The spindle is machined from 6AL 4V Titanium rod, drilled through to reduce weight has 8mm x 1mm pitch threads tapped for the crank bolts. The ends are milled to make the 2 degree taper to accomodate all aluminum crank arms.
The spindle in shape design and mill work appears identical to the GT version. An aluminum forms the core of the B/B with a sealed bearing cartridge pressed onto the spindle from each end. The bearing chosen is of unknown origin with the dimensional number of 61903RS
World Class has chosen a more traditional way of designing their bearing cups and sealing the system. Each cup is machined from aluminum rod. The hole bored making the cavity for the bearing fits pretty snugly but still for hand removal of the cup. A channel is milled around the spindle exit hole in each to seat an O-ring which keeps contaminants and moisture out of the cup and bearing area. The inner core tube is anodized Black, the bearing cups are Clear anodized Silver. The outer face of each cup is bored with 20 small holes for a Park BBT2 tool to be used in installation.
Though this B/B originally was sold with perfect Shimano Replica Ti crank bolts, World Class stopped sending them, electing to sell them separately, (see Crank section). The World Class B/B is available in spindle lengths of103mm (159 g.), 107mm, 110mm (165.5 g.), 113mm, 116mm (173 g.), 122.5mm (180.5 g.), and 127.5mm (182.5 g.) The 113mm model weighs 167.5 grams,
Spindle -03-07-10-13-16-22-27 $Price in Catalog