Tioga Bottom Brackets
---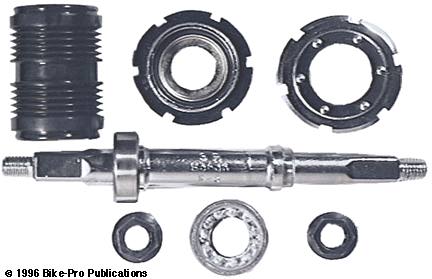 TIOGA MTB-SK SEMI-SEALED BOTTOM BRACKET
The "Semi-sealed" in this name is what the bearing community calls "sealed mechanism". In this case, they are cartridge bearings with one of the sealed sides removed. Remembering that "Tioga" is only a marketing company, we will tell you that Sugino of Japan makes this bottom bracket.
It is a "dual adjustable cup with fixed length spindle" design, which permits fine lateral adjustments. The spindle is made of cast steel, that is nickel plated, after the bearing races are precision ground. This spindle uses cast Black steel nuts to fasten the crank arms instead of bolts that thread into the spindle.
The bearing cups are made of cast steel that are chrome plated, having six holes on the face for final pin spanner adjustments. The lockrings for each cup are made of steel, the left one is chromed, while the right is painted Black to identify each, as the threads reverse each other. In the cups are sealed bearing cartridges that have the seal on one side, and the center circular axle removed. With these pieces gone, it makes a very elaborate and secure bearing structure with 11 ball bearings in a retainer. The sealed side of the bearing, naturally faces to the outside, and is enclosed by the bearing cup.
A Black plastic water sleeve is included with this B/B, and makes a tidy yet inexpensive solution to B/B replacement. The spindle comes in only one length, which is 130mm, but the floating nature permits lots of adjustment. The weight of the Tioga MTB-SK, with nuts and sleeve, is 376 grams. $Price in Catalog
Copyrighted material - All rights reserved
---
This site sponsored by