Ritchey Bottom Brackets
---
Ritchey B/B Delivery Warning Notice
Remember, Ritchey has no manufacturing facility of their own. They have factories manufacture & package goods bearing the Ritchey brand name. Ritchey has had their Bottom Brackets made in Japan, which has proved awkward lately because of the dollar/yen exchange rate. Japanese goods have risen about 22% against the dollar which the currency that Ritchey backs all their calculations into. The dollar weakness has forced Ritchey to re-evaluate what they can afford to sell, now that American made B/B's will be so in-expensive relative to any Japanese B/B they can import. Shortages of Ritchey B/B's have already shown themselves, and there will be dry spell with price increases when they re-appear.
---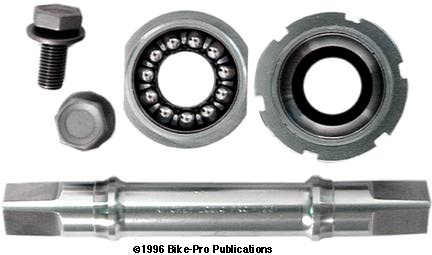 RITCHEY LOGIC PRO WCS TI CRANK BOLTED B/B
The Logic Pro WCS B/B uses the same single length spindle principle as the previous two Logic B/B's. It is made in Japan. The Cro-Moly steel bearing cups are finely machined with bearing surfaces ground and polished to an exceptionally smooth finish. The fixed right cup has the outer flange, on two sides, cut parallel for a fixed cup tool to grip. The left cup has six small holes for a pin spanner to make fine adjustments. The left cup is held rigidly in place by a machined aluminum lockring, which is one of the weight saving features. Both cups have a sturdy rubber seal where the spindle exits the cup.
The Logic WCS uses eleven 1/4" diameter steel ball bearing in a steel retainer in each cup. The spindle is machined of Silver colored Cro-Moly steel. It is hollow with the threads tapped for the crank bolts at both ends. The other weight saving feature is the pair of Titanium crank bolts and washers. Remember the steel set used in the other Logic B/B's weighed 31.5 grams, this Titanium set weighs just 15.5 grams per pair.
The WCS B/B comes only with 123mm long spindle and weighs with the Ti bolt set 268.5 grams. $Price in Catalog
Copyrighted material - All rights reserved
---
This site sponsored by