Gonzo Bottom Bracket
---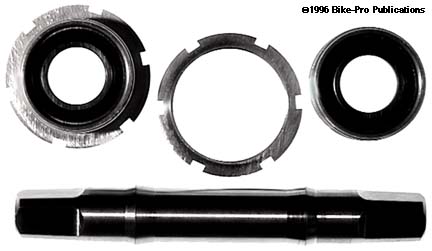 GONZO "NO NAME" Ti BOTTOM BRACKET
Gonzo Components was originally based in Redwood City, Ca. Michael Gonzales sold his interest in the company to Bill Shaw who resides near Marietta, Georgia and Gonzo is based in Marietta. Boone Technologies is based not far away in Kennesaw, Georgia and they make a bottom bracket called the Helixx which is reviewed further down in this article. Although the Boone Helixx uses a different spindle, both of these B/B's use the same bearings and bearing cups.
The No Name is a "fixed spindle with Dual adjustable cups design". The spindle is machined from 6AL 4V Titanium rod. It's drilled through to reduce weight and has the traditional 8mm x 1mm pitched threads tapped for the crank arm bolts. Each end has the 2 degree tapered used by all aluminum cranks. A sloping rise equidistant from each end of the spindle makes a shoulder for the bearing to seat against.
Each bearing cup is machined from aluminum rod with the inner side bored to receive the sealed bearing cartridge which is machine pressed into the cup. The bearing used is a Japanese SMT 6903RK. The outer face of the cup had a rounded depression leaving a narrow wall where the spindle exits the cup. There is no added O-ring seal at the spindle exit point.
To tighten each cup in place there are 6 3mm diameter holes spaced equidistantly around the outer surface. A Park SPA2 pin spanner to grip. Since lateral positioning of the cups is necessary to adjust the chain line we should mention that each bearing cup is 14mm wide at the threaded area, Once the cups are in place a 3.7mm thick, machined from aluminum plate lockring is tightened to hold them in place. The lockring has 6 square notches spaced around its outer edge for a spanner to grip while tightening.
The No Name came with no installation instructions leaving all but an expert to mis-install it. A key element in this type of B/B is the knowledge that each cup is threaded in the reverse of the other, the right (drive side) will not fit and be damaged if it is tried with any vigor in the left side of the shell. For this reason other manufacturers mark, stamp or color to identify the each cup. Gonzo doesn't mark the cup so delicate random experimentation is required. In the B/B we reviewed both lockrings had been mistakenly put on backwards which wouldn't have happened if the parts were marked. Though no two Titanium parts touch each other, Included with each No Name is a tube of Finish Line Ti Prep probably to be used as thread compound to hold the cups in place.
The No Name doesn't come with crank arm bolts. It's available in six spindle lengths, 103mm, 107mm, 113mm, 118mm, 122mm, 125mm or 128mm. The cups and lockrings are always Silver in color. The 122mm spindle version weighs 158 grams.
Spindle - 03-07-13-18-22-25-28 $Price in Catalog
Copyrighted material - All rights reserved
---
This site sponsored by