Bullseye Roller Bracket
---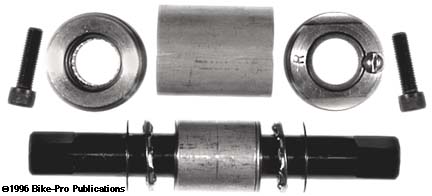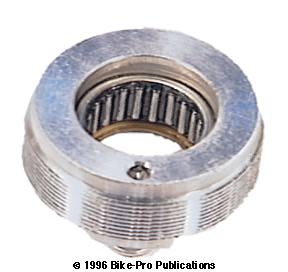 The Bullseye Rollerbracket is a fixed spindle with dual floating cups type of bottom bracket. This is a divinely crafted bottom bracket that uses needle roller bearings instead of ball bearings. With ball bearings, whether in a retainer or in a sealed bearing cartridge, only the very top and bottom of the upper and lower most balls support the weight of the rider at any moment. That puts a very small area under a great deal of pressure.
Roger Durham at Bullseye designed the Rollerbracket to dissipate the pressure over a greater area. Needle bearings are shaped like tiny metal rods. They carry the weight over the length of the rod (needle) with it's multiple points. They are placed side by side around the axle, rather than the ball bearings 'singular point. The Rollerbracket is held in place using threaded, Silver aluminum retaining cups, that have parallel flat surfaces ground into them for tool grip. Installation doesn't require a special spanner wrench, in fact you could carefully use any adjustable wrench to install this bottom bracket.
As a floating type of bottom bracket, lateral adjustments are simple. An internal, locking aluminum collar, locks the spindle into the correct position prior to final needle bearing cup installation. The bearing cups have an oil passageway built into them, that permits re-lubrication in minutes. This can be used with many cranksets, both double and triple chainring, depending on the spindle length. The spindles for this unit are measured in inches, and are available in 4 1/2 (109mm), 4 3/4 (121mm), 5 (127mm), 5 1/4 (133mm), or 5 1/2 (139mm) inches long.
The weight of the Rollerbracket in the 5 inch (127mm) size, is 316 grams (with crank bolts, which weigh 27 grams). Truly unique, rock solid, made in Burbank, California. English thread only.
Spindle Length-09-21-27-33-39 $Price in Catalog
Copyrighted material - All rights reserved
---
This site sponsored by