Profile Bar Ends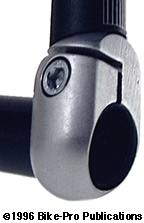 PROFILE XC SIERRA SHORT BAR ENDS
The handle bar maker Profile for Speed makes two cinch type models of handlebar extensions. The XC Sierra Short is their Ski- bend model. It's made of two parts, a cinch assembly, and a grip section both made of aluminum. The cinch assembly is machined from rod stock on a lathe, to reduce one end to the inner diameter of the tubing grip section, and make the other end a rounded oblong shape that cinches to the handlebar. From its round shape, two parallel sides are cut leaving two parallel flat sides for the final working of the metal. On what will be the bottom side, a hole is bored for the cinch bolt, which recesses the head into the cinch assembly. The lower portion of the hole is tapped with threads for the bolt. The piece is drilled with a 7/8 diameter hole, at an angle to receive the handlebar. The hole is angled at 27 degrees so the grip tubing will have a 27¡ from handlebar perpendicular, inward angle toward the front tire. The remaining steps on the cinch assembly, are two saw cuts which permit one side of the clamp assembly to have slight movement creating the clamping mechanism. The grip tubing section is anodized Black then laser etched with Profile's logo upright on its outer surface. The tubing grip section is pressed and bonded into its final position. The tubing section is 5 1/2 inches long, with a 50 degree inward bend, and a 16 degree upward bend, starting 3 1/8" from the cinch assembly. The cinch bolts are zinc plated steel with 6mm by 1mm thread pitch that 16mm long, weighing 5 1/2 grams. XC Sierra bar ends come with four Black plastic press-in end plugs for the tubing and handlebar ends. The clamp assembly is Silver, the grip section is Black, the pair with steel bolts, and four end plugs weighs 168 1/2 grams. Made in USA.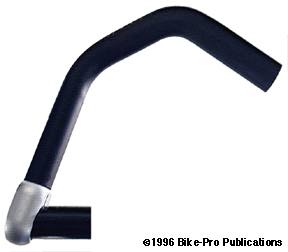 PROFILE XC SIERRA LONG BAR ENDS
The XC Sierra Long Bar Ends use the same cinch assembly, bolts and four plugs as the Short model. The tubing grip section is different from the XC Sierra Short, and far more complex, delivering several different hand positions. The tubing section is 11 inches long, and again pressed and bonded to the cinch assembly. Like the Short XC Sierra, the first bend starts 3 1/8 inches from the cinch piece. It is a compound bend with a 50 degree inward turn toward the front tire, and a 20 degree upward bend. At 6 1/2 inches out, there is a second bend creating the tertiary grip section. The second bend turns the tubing downward at 7 degree and back into the handlebar at 50 degrees. The pair of XC Sierra Long bar ends with steel bolts, and four end plugs weighs 226.5 grams.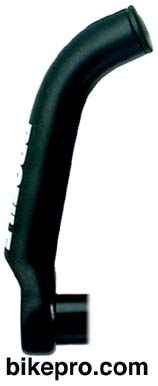 PROFILE BRIEFS
Made in Taiwan, (in the same plant that makes the Ritchey bar ends) these are a one piece, cold forged aluminum bar end. These are a short ski bend version with 3 1/2" of grip to the curve. They come with two pair of Black plastic end plugs for the handlebars and bar ends. The cinch bolt is made of steel. These come anodized in Blue, Black, Green, Red or Silver with a pair weight of 128 grams. Price in Catalog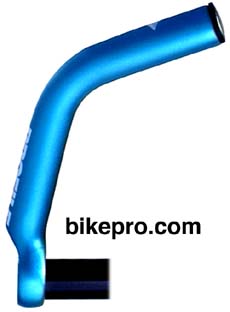 PROFILE BOXERS
These are an L-bend version of the Briefs. The grip tube is bent leaving about 3 1/2" of grip on each side. Two pair of Black plastic end caps are included. Anodized in Silver, Black, Green, Blue or Red, these have a pair weight of 149 grams. Price in Catalog