Mavic 330 Seatpost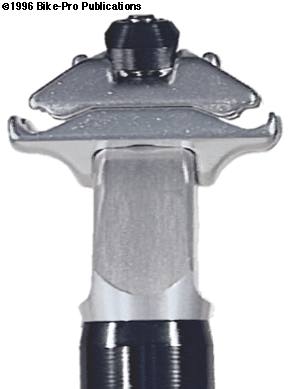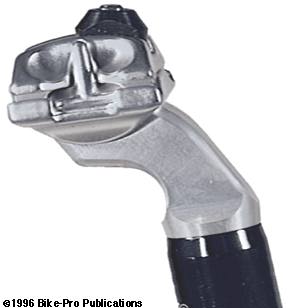 MAVIC 330 ROAD SEATPOST
Ownership of a Mavic 330 post brings with it, the understanding that you are a patron of the arts in workmanship and design. The upper and lower clamp pieces are forged, the other parts are created from aluminum stock that is machined to final shape. The upper clamp piece is forged with two features, one is a cut-out for the two graduated posts, on top of the lower clamp piece. The post positions the upper clamp piece squarely and precisely on the lower clamp piece. The other feature forged into the upper clamp piece is a 1/2" wide groove that runs front to back in an arc. The groove provides a seating for a round aluminum nut with it's sides milled to fit the taper of the groove.
The nut is the clamp assembly fastening nut, which is beautifully machined from billet aluminum then Black anodized. The upper clamp piece provides 3/8" of contact to the saddle rail at each of the four corners, while the lower clamp piece provides an inch and a half of continuous surface for each rail. The head piece for this post is machined from a single piece of billet aluminum, with exact edges, showing precise millwork.
A look inside the post reveals careful drilling on the underside of the head piece, to reduce weight, before being pressed into the tubing section. The tubing section has been turned on a lathe to achieve the outer dimension, hard anodized Black and then has "MAVIC" and the seatpost size center-etched into the back. The pressed head piece extends for 1 3/4" into the tubing section. A single, steel, 6mm allen head cap screw holds the saddle and clamp assembly, so all adjustments in angle and handlebar distance are performed with a 6mm wrench only.
Brilliant execution and flawless workmanship on a simple but clean design, as is typical of so many Mavic items. It is only made with a Black tube section and a Silver clamp assembly. With the clamp perpendicular to the tubing section, the center of rail to end of tube length is 236mm. The weight of a 27.2mm Mavic 330 post is 279.5 grams. The Mavic 330 is made in France, and is available in, 26.2mm, 26.4mm, 26.6mm, 26.8mm, 27.0mm, and 27.2mm sizes.
No longer made, we sold the 330 for $71.99