Hite Rite Seat Locator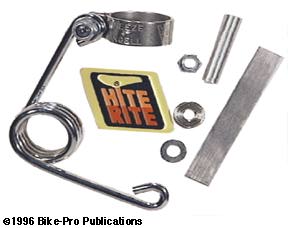 The saddle height you feel comfortable with varies depending on the terrain you're riding over. Generally, on level ground and pavement, you set it higher to be more comfortable with a full leg stroke. As people go down steep, crumbly hills, there is a tendency to "stand" on your pedals with your bottom off the saddle. This permits the bike to move freely underneath you. With the saddle high, while you are standing on your pedals there is a tendency for the seat to bang around your inner thighs.
Serious riders open the quick release seat bolt, grab the saddle between their knees, lower it and close the bolt after. Although you can grab the seat and similarly raise the seat, many riders have found the Hite Rite a much easier solution. The Hite Rite is a large, coiled steel spring, with one end fastened through the seat bolt and the other bolted to a steel clamp mounted on your seatpost. The spring is "loaded" when you open the seat bolt and use your body weight to push it down, then close the release afterward. When you reach less rocky ground, open the release on your seat bolt and the saddle will restore to the higher position, close the release.
As added benefits, the Hite Rite makes simple, outright theft of your saddle and post more difficult, and because of how the clamp fastens, keeps the saddle aligned with the line of the frame. The Hite Rite comes with the spring "legs" in two lengths to achieve different travel heights. The Standard model will permit the saddle to move up and down 3 inches. The Extra Long model will permit 4 1/2 inches of seatpost travel. It is also available in either Black or Silver.
The Hite Rite in the Standard or Extra Long model will fit a seat post diameter of 25.4mm up to 27.2mm with the included parts. For seatposts with a diameter of 28.2mm up to 31.8mm there is an oversized ring clamp, which is available separately. The Standard model in Silver or Black weighs 102 grams. The Extra Long model in Silver or Black weighs 136 grams.
Hite Rites are not made any longer. The various models sold for about $15 with the oversize clamps selling at $6 each.